Traders use Rick's Picks to slash risk
and boost their win rate:
Rick's work has been featured in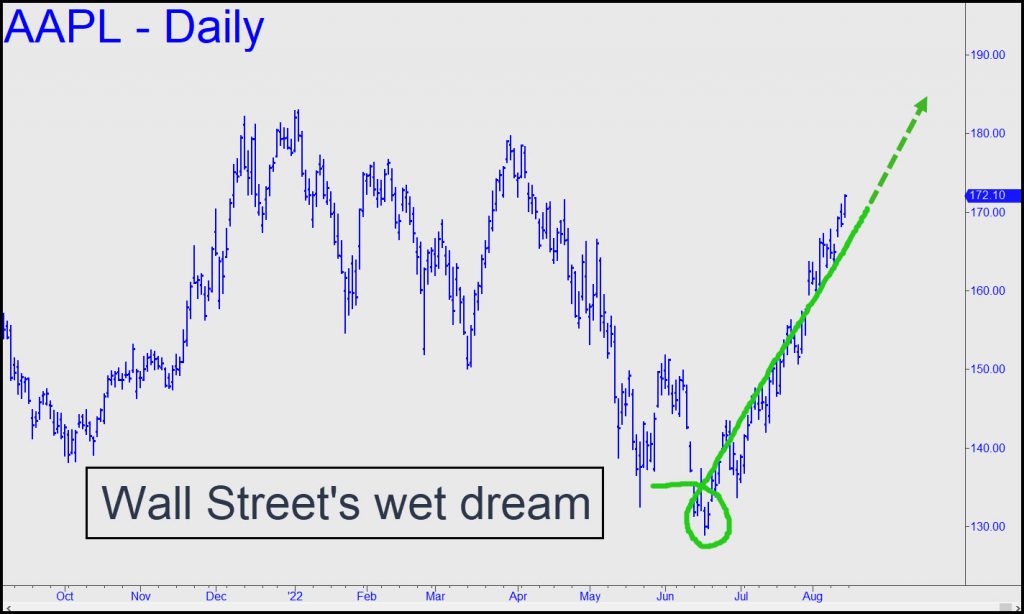 Is the stock market on its way to new record highs? The thought would have seemed preposterous just a week ago, when the Dow's still-presumptive bear rally had yet to exceed even a single peak on the daily chart. But it did so last Wednesday, with a gap-up opening that demonstrated how spectacular daily gains can be engineered by Wall Street's wizards to require little bullish enthusiasm or even much cash. As detailed here last week, this has been especially true of AAPL, the Titanic of the securities world and a crucial bellwether for investor sentiment. One might have thought it would take hundreds of billions of dollars to float the stock back to the surface following its nearly 30% plunge from a record $183 in January to a Mindanao low of $129 in mid-June. So many investors lost so much money as AAPL plummeted that their eagerness to recoup at least some of it should have turned the stock leaden the entire way up.
Suckers Never Learn
Instead, DaBoyz last week succeeded with little effort in driving AAPL to within a hair of a $172 target I'd disseminated to subscribers more than a month ago. Along the way, no fewer than a dozen times, they employed a trick that has never failed to work, even though the same suckers have been played countless times. The pros simply pulled their bids overnight, letting Apple shares fall sharply enough to dry up sellers. When bears realized at the opening bell that there was little or no supply to cover their shorts, panic buying into ghost offers did the rest. Thus did the resulting price spikes in the early moments of numerous sessions accomplish what merely bullish buying never could – i.e., goosing the stock past imposing peaks and thick layers of supply created by losers on the way down. We note that at Friday's close, AAPL sat just 7% shy of new record highs, not even breathing hard.
In the meantime, its poor cousins, the once-mighty FAANG stocks, continue to languish near their bear-market lows. Will AAPL's carny-booth handlers be able to vamp in the ozone for a couple of months until all the other stocks catch up?  This seems unlikely, and it will be interesting to see how they keep their all-time-favorite cash cow chill, since AAPL has been trained to behave on cue like a rabid badger. But how will the other stocks shake off a bear market and levitate to new all-time highs when Americans are mired in the worst crisis of confidence since the early 1970s? The answer is that their mood will improve as shares continue to rise, even if initially for no reason save short-covering.
Sardine-Like Prescience
As we watch the insanity unfold, assuming it does, let me suggest putting aside the widely believed but ridiculous notion that the stock market is able to see six months ahead and predict an economic upswing; for in demonstrable fact, the supposed prescience that drives these moves is non-existent. The market is no more prescient than a tin of sardines, and the collective wisdom often ascribed to it is actually just fear and greed operating at the sub-animal level of the id. Stocks rally for unfathomable cyclical reasons that have nothing to do with earnings or events in the real world. Ultimately, this could revive the epic delusion that the economy is getting 'healthy' again, even though it is supported by debt grotesquely larger than we will ever be able to pay down. Thus do bear rallies with no apparent basis in reality eventually win over the masses. As for the supposed 'wall of worry' that stocks climb when the headlines are depressing, the idea was popularized by a news media that cannot comprehend the obvious — i.e., that the stock market is a stupid, crazy beast, and that Fed funny-money has made it more insane than ever. But prescient?  Yeah, sure.
The foregoing explains why this permabear's mind is open to the possibility that a fake rally could ultimately turn into a real one, even as the news headlines wax grimmer than ever. If you need a reason for new all-time highs, consider the prospect of the November election reversing America's appalling slide into woke darkness, the strangling dictatorship of LGBTQQIP2SAA, and societal divisiveness verging on civil war. Will we be temporarily spared from deflationary ruin by a Republican blowout and a rip-roaring bull market? Among the nations of the world, America has always been luckiest. That is why we shouldn't dismiss the possibility of a final, truly insane running of the bulls on Wall Street.
$ = Actionable Advice + = Open Position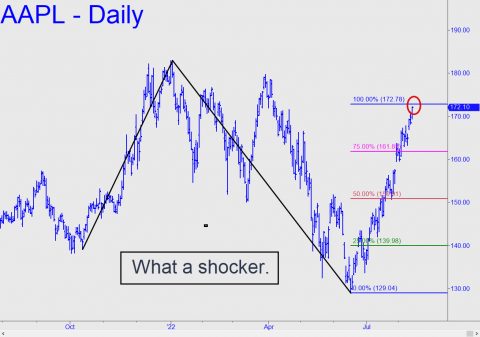 What a shocker. The no-decision monkeys who have lived off AAPL's autopilot bull market have succeeded in levitating the stock to within a split hair
Read More »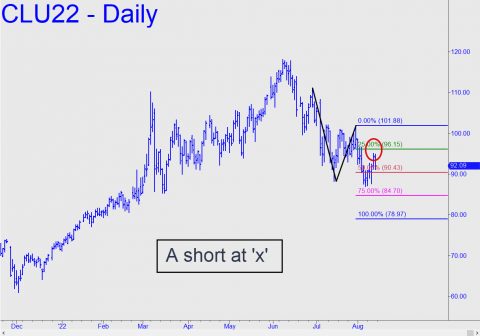 Crude would trigger a 'mechanical' short if it touches the green line x=96.15. However, because the impulse leg was such an agonizing slog, I can
Read More »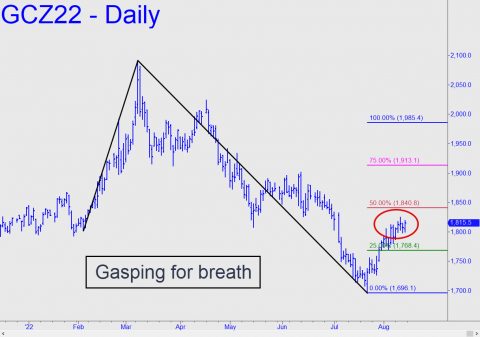 Gold has been huffing and puffing for two weeks without making much headway. That's not saying it can't still pop through p=1840.80 with brio, but
Read More »
Exclusive trades for members
What customers are saying...
Rick, you are a genius. Gold had one of its biggest swings today in 20 years, and you nailed both the exact high and low by within a total of less than one point.
Rick Ackerman's daily forecasts are superior to that of any other technical data I have seen. In particular, I have found the bond and S&P analysis to be extremely reliable, in addition to the individual securities.
This is the best site I've run across. I also took the GC trade by buying JNUG this morning 3000 shares. Just sold for 5K profit. Paid this months mortgage on my house. Thanks Rick.
Rick's Picks Subscription
If you are looking for trade recommendations and forecasts that are precise, detailed and easy to follow, look no further.
$
33/mo
When paid annually
'Uncannily accurate' technical forecasts

Timely commentary on the predictions of other top gurus

Timely links to the world's top financial analysts and advisors

Detailed coverage of stocks, cryptos, bullion,
index futures and ETFs

A 24/7 chat room where veteran traders from around the world share opportunities and actionable ideas in real time
Mechanical Trade System
A simple set-ups that will have you trading profitably quickly even if you have never pulled the trigger before.
Leverage violent price action for exceptional gains without stress

Select trading vehicles matched to your bank account and appetite for risk

Reap fast, easy profits by exploiting the 'discomfort zone' where most traders fear to go

Timely links to the world's top financial analysts and advisors

Reap fast, easy profits by exploiting the 'discomfort zone' where most traders fear to go

Leapfrog the years-long learning curve it usually takes to become profitable